Gay Online Dating for Newbies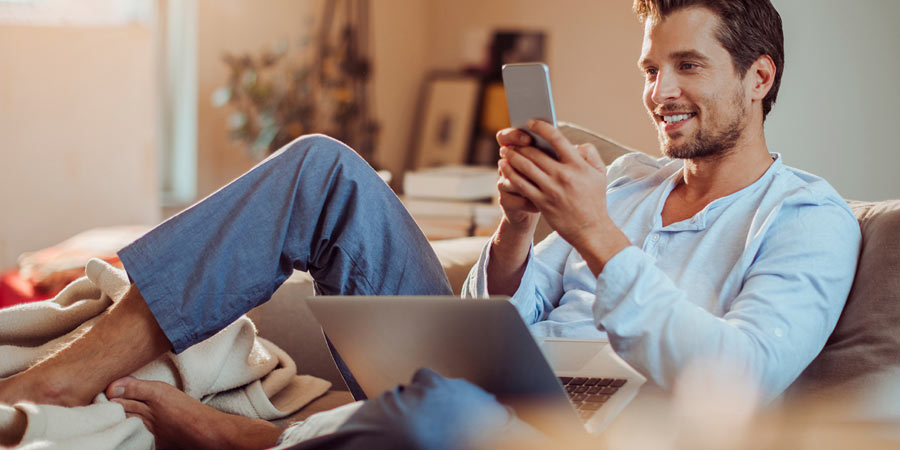 I used to really struggle to meet people I was interested in at events I attended. As a result online dating was my first foray into dating in general, when I turned 27. It took me a while, but since then I've learned a lot about the do's and don'ts of dating apps. Writing a good profile, choosing enticing photos, and starting an engaging conversation.
Online dating has become a really big thing in the last 20 years, and more and more people are meeting partners on the internet as opposed to meeting at bars, clubs, or through friends. It's not that meeting people in the real world is a thing of the past but dating apps and websites have lots of benefits compared to meeting in-person.
Your first foray into the world of dating apps can be a little daunting, but you've got very little to lose. Let's talk through how to kick off your online dating journey and get the most out of it.
What makes a good dating profile?
When it comes down to it, a dating profile is a lot like an advertisement, and needs to stand out from other profiles in order to get noticed.
Choose your profile photos carefully
For most apps, your first impression is in the form of a profile pic, so make sure yours is a good one! My profile pics tend to feature me smiling at the camera, out in nature, or at events like Pride March.
Like a passport photo, a good picture ideally shows your face clearly. Unlike a passport photo, however, your pic should indicate that you're a fun person to be around! Try to use a pic of yourself smiling and doing something fun. Going to the beach, having a picnic, or having a drink at a bar. Make sure that your first profile pic features you alone, and on Gay Match Maker that's actually a requirement. There's nothing worse than somebody thinking they're messaging the cute person next to you at that pool party!
Write a thoughtful bio
Registering on Gay Match Maker is pretty straight forward. You'll be given a few pages with tick boxes or options but there is also a free text area where you can add a "Tag line", a section to "Introduce yourself" and one for "your ideal playmates or partners".
When I'm writing a dating profile, one of my goals is to make it clear what and who I'm interested in. This helps to filter out people who wouldn't be a good match. For example, I'm currently in a non-monogamous relationship, so I want to filter out monogamous people as quickly as possible.
Think about your passions and values, the sort of relationship you want, and the type of conversations you'd like to have. Use this as a starting point for your profile bio to give people some idea of whether they'd get on with you before a conversation starts. This can also help as a conversation starter. You could also mention a bit of what you're not looking for, but I try to keep it positive and the experts say this is the right approach.
For example, my profile might say: "I'm a left-leaning, geeky, non-monogamous, bisexual IT expert who is passionate about volunteering and using open source software to enhance human rights. I'm looking for people of all genders who are interested in short-term dating, friendships, or hook-ups. Tell me what has made you smile recently!" This is a relatively short profile, but is packed full of information about who I am, what I'm interested in, who I'm looking for, and a low-effort way to start a conversation with me.
If you struggle to find the words you'll find that the tick boxes pretty much complete a lot of the basic stuff and allows you to take a breath before you put some thought into your bio.
Finding compatible matches
Each dating app has its own way to help you find and filter potential matches. Some show you a person's profile pics and a short bio and let you swipe to like or pass on someone. Feedback told the team at Gay Match Maker that swiping can be quite demoralising so they show you your Matches for age and Sexual Interests or you can do an Advanced Search.
Gay Match Maker offers a huge array of search options to help you narrow down possible matches. You can search by age, distance, appearance, interests … the list goes on. And once your search results are displayed you can further filter the results by only displaying members with photos, non-smokers, members with validations or even members looking for you.
As a safety measure, Gay Match Maker also lets you filter by "verified members" which means members have been verified to match their photos, or age verified members, which assures you that the age shown on the profile is accurate. You can learn more on the About Us and Features pages.
Once you've been able to narrow down your search to find one or more matches to reach out to, it's time to shoot them a message and say hello!
Making the first move
I find lots of people who date online are reluctant to make the first move, or don't know how best to strike up a conversation. I try to find something in someone's profile text or photos that seems interesting to ask them about, and start with that. I keep my questions open-ended to keep the conversation going.
Using my example bio from earlier, asking somebody what has made them smile recently can be a great opener. This starts the conversation in a positive and lighthearted tone. It also means any response you get will hopefully include something that the other person likes to talk about, which can help build connection.
You do need to be a Premium member to start conversations on Gay Match Maker or you can search for members who have purchased a membership which allows you to contact them for free.
If you get a response to your message and the conversation seems to be flowing well, maybe try suggesting meeting in person. Or, as we found during lockdowns, you might suggest a phone or video chat to start with. If you do decide to meet in person, think carefully about somewhere that feels safe and comfortable for you both. Meeting at a cafe, bar, or local park for a walk can be a great start. If you want something a little different, you could suggest going bowling, rock climbing, or dog lovers might organise a doggy playdate. The possibilities are endless!
The most important things to remember are to be safe, and have fun! Online dating is an amazing tool for meeting cool people who you might not get the chance to meet in public! So off you go, and give it a shot!
Copyright © 2023 Matt Cengia It is illegal to use any or all of this article without the expressed, written permission from Gay Match Maker and the author. If you wish to use it you must publish the article in its entirety and include the original author, plus links, so that it is clear where the content originated. Failure to do so will result in legal action being taken.
The content posted on this blog is intended for informational purposes only and the opinions or views within each article are not intended to replace professional advice. If you require professional relationship or sexual health advice you should consult with an appropriately trained and qualified specialist.